3 Ways to Get a Whole New Look With Just a Coat of Paint
BY JAMIE BIRDWELL-BRANSON ON 21 DEC 2017
Itching for a new look? Paint can transform so much more than just your walls.
Paint is easily one of the biggest home design tools at your disposal. It has the ability to take a room from dark and dingy to light and bright — and from small and cramped to spacious and airy.
To find out exactly how to change the look of a room with paint, we asked house-flipping pros and owners of Seattle-based Urban Squirrel, Lora Lindberg and Debbie Cederlind, for some pointers.
"Paint can lend a feeling you want to evoke," says Cederlind. "The walls are the biggest surface for the biggest impact." But you can get a new look without committing to painting a whole room.
Here are Lindberg's and Cederlind's tips for transforming your space with just a little paint.
1. Paint your furniture
Your first instinct may be to look at the walls for a drastic change in your home, but painting your furniture can pack just as much punch — if not more.
Not only is this a more renter-friendly solution, but it's also a good way to break up the monotony of furniture that came in a set or that matches the flooring.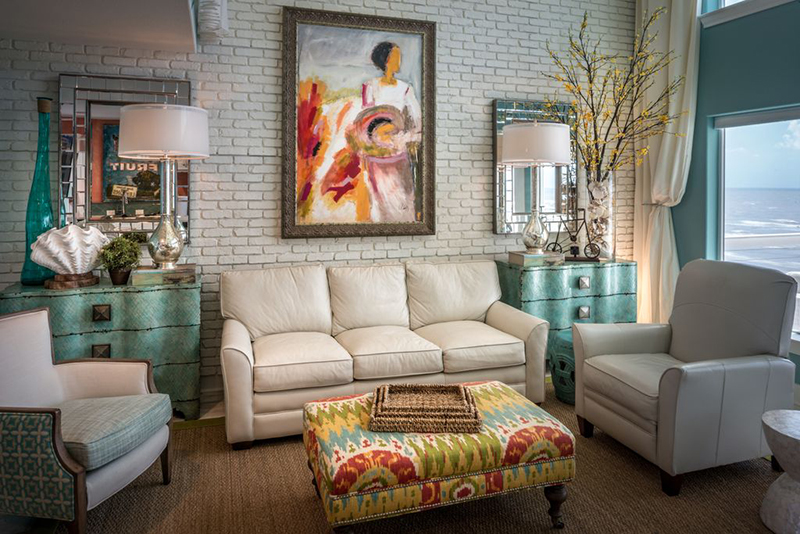 "It's definitely more interesting to mix in a painted piece of furniture rather than have everything wood," says Cederlind.
If you're a renter and aren't allowed to splash any color on the walls, go for a bold color on your furniture that will brighten up the room — particularly if you have white or off-white walls in your rental home.
2. Don't be afraid to paint paneling
If you live in an older home that has been blessed with the gift of wood paneling, it may look dark, outdated and cavernous. Although it might be tempting to rip it out and start over, Lindberg and Cederlind suggest painting over the wood instead.
"We see so many houses that haven't sold because of paneling. Painting the paneling is one of the most dramatic changes you can make," says Lindberg. "Some people say it's a sin to paint wood, but a paneled room can look incredible with a lighter paint."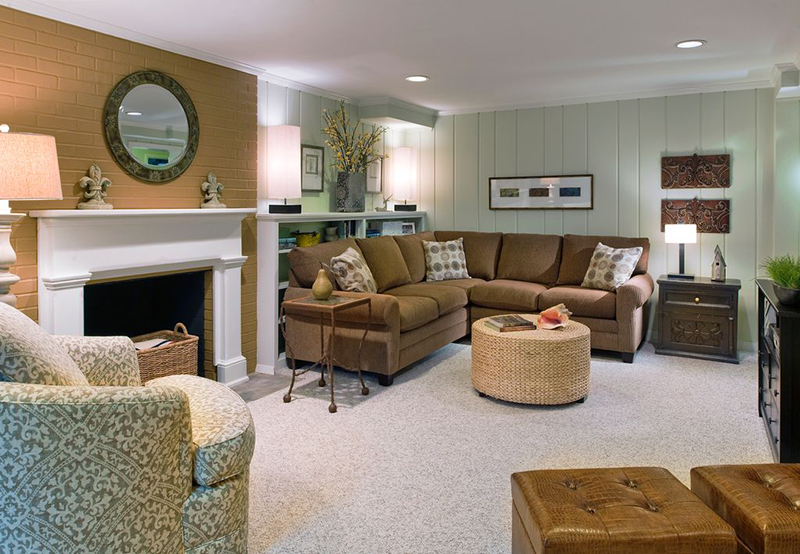 When you choose the paint color for your wood paneling, Lindberg and Cederlind suggest painting it a muted color and saving the pops of brighter color for artwork and area rugs.
3. Limit bold color choices to a room or two
Painting a dramatic color in one or two smaller spaces, like a powder room or a dining room, will make them stand out and be more memorable to visitors.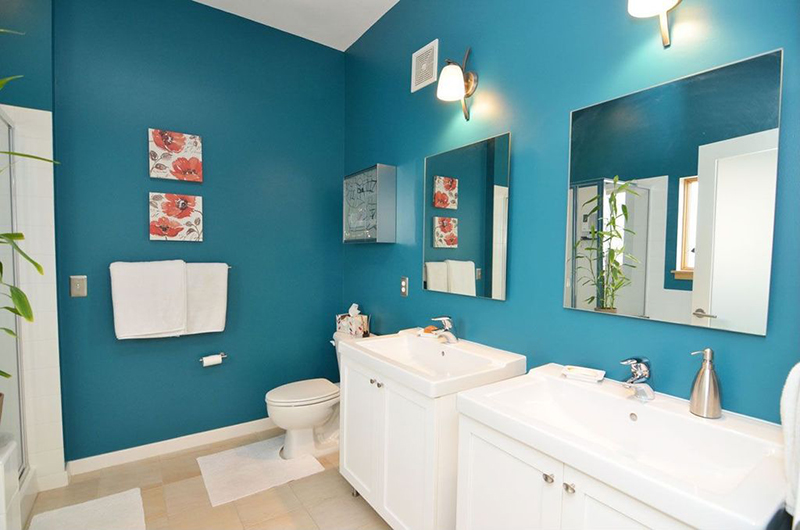 Although adding bold color to your walls is a great way to change up your space immediately, don't go overboard with dramatic colors.
"The thing that drives me the craziest is painting every room a different bold color. Paint the whole house the same color, then pick one or two special rooms to get an accent, like a dining room or powder room or den," says Lindberg. "A trend I've been noticing a lot is dark walls. You definitely don't want to do that everywhere."
This tip is especially important if you live in a home with an open concept living or dining space. The house will seem bigger and flow better when there's continuity in the paint color throughout the home, Lindberg and Cederlind say.
Remember: Finding the right paint color takes time
Whether you decide to paint your walls in just one space or all of them, make sure you choose the right color before you tape off the baseboards and prep the room to paint.
"Picking out colors is the hardest," says Cederlind. "We spend a lot of time getting samples and trying them physically in the room, but it's worth every penny. Don't go and get the paint chip and then buy a gallon of $60 paint. The chances of getting the color right the first time are pretty slim."
TUCSON HOME VALUE ON THE RISE:
November 17, 2017
On the topic of Tucson home value my clients…buyers and sellers…frequently ask how much home prices in the Tucson metro have risen in the past year into November. And where will prices go in the year ahead.
The Tucson Association of Realtors reports that median home prices are the highest they've been since 2007… with the median price this past September coming in around $206,000. Some homes have gone up more than 8% in price year over year… while others have increased around 4%.
Zillow, and other real estate watchdogs, predict another 4% leg up in prices in 2018.
For what that's worth!
These increases in Tucson-area home prices is much more 'measured' than prices in other areas. Like Denver, witnessing parabolic home price increases for the past several years
From CNBC:
"The steady rise in home prices is so far showing no boundaries, and that is turning up the heat on some already overheated housing markets.
Home prices rose 7 percent nationally in September, compared with September 2016, a higher annual increase than was seen in August, according to CoreLogic, a real estate data firm.
As a result, 48 percent of the nation's top 50 housing markets are now considered "overvalued," up from 46 percent in August. Seattle, Las Vegas, and San Diego reported the highest year-over-year gains among major cities. A market is considered overvalued when home prices are at least 10 percent higher than the long-term, sustainable level. For the top 100 markets, 36 percent were considered overvalued.
DIY: HOW TO SOUNDPROOF YOUR HOME
UPDATED SEPTEMBER 18, 2017 REALTY EXECUTIVES INTERNATIONAL LEAVE A COMMENT
Wanting some peace and quiet in your home is not something that should be taken lightly. Excess or consistent sound in your home can cause stress, sleep disturbance, and can even lead to heart disease.
As a homeowner, there are a number of steps you can take to decrease the noise in your home.
Cover your windows
"A standard window is eliminating something like 40 to 50 percent of outside noise," says David Sudkin, the president of a soundproof window company CitiQuiet.
Sudkin adds that it's possible to eliminate all noise coming through windows if you follow proper soundproofing steps.
One simple DIY tip to reduce the noise that enters through a window is to cover them with either thick drapes or curtains.
You can take this a step further by installing specialty sound blocking quilts or curtains to cover your windows, both of which are affordable and easy to install.
Seal any cracks or leaks
While covering the windows can be a quick and easy fix, it might not be the most effective at blocking out a lot of noise.
Randall Brown, the president of Soundproof Windows Inc., says that covering windows may prevent noise from ricocheting off the walls of your home by absorbing the sound, but this strategy won't stop noise from coming into your home completely.
"Ninety-nine out of 100 times, huge improvements […] can be obtained by attacking the leaks," says John Storyk of acoustic and architectural design company WSDG.
Blocking noise from entering through leaks and cracks in doors, outlets, drywall and floorboard cracks is the next step:
Fill in cracks in the seal of the windows with caulking or sealants

Replace old, cracking seals in windows

Caulk around power outlet boxes

Fill in any cracks in your floorboards or drywall with either drywall material or caulking

Install weatherstrips under doors and in windows
You can find caulking, sealants, and weatherstrips at any hardware store.
Removing old caulk can be a hassle, but it must be done correctly or else the new caulk or sealant won't adhere properly.
There are caulk removal products and tools you can purchase; petroleum jelly and rubbing alcohol can also be used to remove any leftover adhesive the other products weren't able to remove.
Following these tips can reduce your Sound Transmission Class (a measurement of sound levels) by 15 percent.
Enhance your walls
Exposed and bare walls can serve as a noise-amplifier. Sound will easily bounce on bare walls, making things sound louder.
A quick and easy fix for this would be to cover the walls with sound-absorbing materials. This could mean adding sound absorbing foam, which is very effective at reducing noise, but might not look the best in terms of aesthetics.
Instead of foam, you can put up decorative felts or tapestries, add some art or paintings, and even install bookshelves can help absorb sound and reduce noise.
Bookshelves are especially effective, as the dense, heavy books can cover large amounts of the walls and absorb a large amount of noise.  
Get more furniture
Rooms that are empty or filled with minimal or hard materials allow sound to ricochet around as they lack anything to absorb sound.
Adding furniture will add materials that can absorb sound. The denser and softer a material is, the better it is at absorbing noise. Items like couches, sofas, stuffed chairs, and thick rugs are helpful in reducing household noise.
If you're willing to spend a little more on furniture, consider investing in acoustic furniture or home accessories which are specifically designed with noise reduction in mind.
Whether it's your neighbors, passing traffic, construction, or even noises within your house, taking steps to soundproof your home should help to reduce noise pollution overall.
This post was written for Realty Executives by Elliot Walsh.